The Workshop on Interviewing for an open position in Finance
On Monday, July 6 at the Hyundai Motorstudio on Novy Arbat, the CFA Association Russia together with the SQ-Team consulting company led a master class on the theme "Interviewing for an open position in finance". The event involved recruiters who specialize in finding staff for the financial and investment sector in Russia.
"We decided to take a break from our series of highly specialized events and dedicate this master class to what might be one of the most important skills for a financial professional," said Vladimir Tutkevich, Executive director of the CFA Association Russia in his opening remarks. "At each stage in your career, you have got to remember that a moment will come when you must show, must prove, that you are capable of more."
"After the crisis of 2008–2009, the market of specialists in the financial sector has undergone fundamental changes," said Alexey Gorbunov, CEO of SQ-Team in his talk. Professionals are faced with completely new realities, he claims, with the major ones being a greater demand for young specialists, replacement based on a "price is more important than quality" approach, as well as faster staff turnover.
Alexey Gorbunov divided his presentation into two parts. In the first part, a talk, he spoke of the most frequent questions that candidates are confronted with, what interests employers the most, and the main reason for which people are turned down. Another main theme was the typical mistakes that candidates make when they are brought in for an interview. The second part of his presentation was an interactive one and dedicated to answering questions from the audience, as well as some concrete examples of successful and unsuccessful interviews.
Especially beneficial for the discussion was the presence of leading specialists in the financial market: Headhunter, Ex-Sberbank CIB Natalia Mirskaya, Partner and Head of HR at Renaissance Capital's Russian division Elena Faustova, and Thomson Reuters recruiting specialist Yuliya Feldman. They shared their experience and helped the attendees to better understand the motivations of employers and interviewers, to feel like they were "on the other side of the desk" for a while.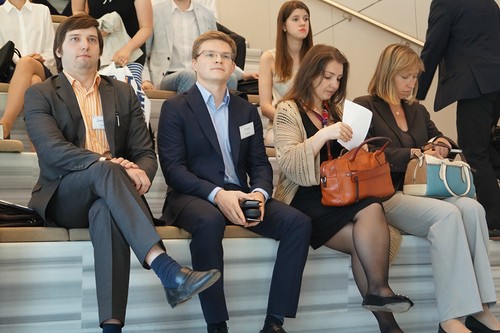 The audience at the master class was 65 people. The event program was quite intense, guests had the possibility of not only receiving a great deal of useful information, but also concrete examples of mistakes and good interviewing. For many of the attendees this event, without doubt, was one step on the road to building a successful career in finance.
Фотоархив